Multiple projects related to societal implementation and R&D that use national projects are being developed at KING SKYFRONT.
Of these projects, we would like to introduce three large-scale projects.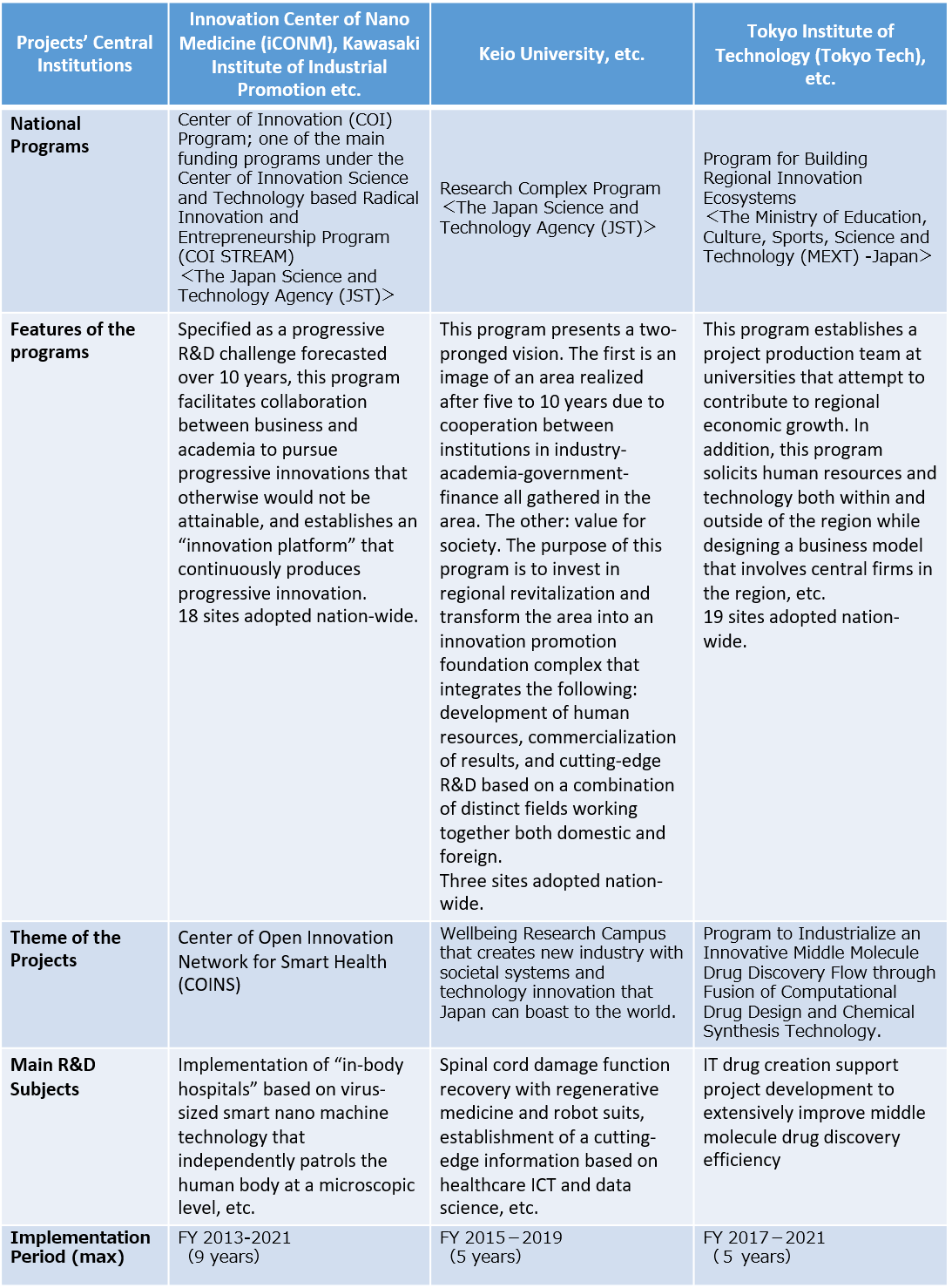 Center of Innovation (COI) Program; one of the main funding programs under the Center of Innovation Science and Technology based Radical Innovation and Entrepreneurship Program (COI STREAM)
<The Japan Science and Technology Agency> (project period: 2013-2021)
■Theme
 Center of Open Innovation Network for Smart Health(COINS)
■Goal
 To Actualize the "In-Body Hospital"!
 They aim to build a society free of disease where you are independently in control of your health throughout your everyday-life without concern over issues, cost, and distance pertaining to medical care. To make this a reality, they present the smart nano machine, a technology that patrols the inner body 24 hours per day for diseases. When a sign of disease is detected, the technology immediately informs outer body entities, and performs treatment. In pursuit of developing this technology, they mobilize world-class cutting-edge nano medical research institutes and enterprises to carry forward integrated research that overcomes barriers between industry-academic-government cooperation.

Six approaches toward the realization of "In-Body Hospitals"
■Related Links
 - COINS
 - Innovation Center of NanoMedicine
 - Center of Innovation (COI) Program, The Japan Science and Technology Agency (JST)
Research Complex Program
<The Japan Science and Technology Agency (JST)>(project period: 2015-2019)
■Theme
 Wellbeing Research Campus that creates new industry with societal systems and technology innovation that Japan can boast to the world.
■Goal
 Through being one of the first societies in the world to experience facing the problem of rapid aging, they will sustainably increase the wellbeing of people all over the world, and create services, products, and expertise to realize a lifestyle that is more plentiful and appealing.
■Vision
 - Global Wellbeing Innovator:
  An area that serves as an innovation power house, and gathers multiple world leading research teams and research institutes.
 - Data-driven Innovation for Wellbeing:
  An area where a state-of-the-art information base that is based on healthcare ICT and data science accelerates cutting-edge wellbeing research
 - Sustainable Research Campus
  An area that grows independently and sustainably, circulating human resources, knowledge/wisdom, property, and funds
■Core Proposing Institutions
 
| | |
| --- | --- |
| Core Institute | Keio University |
| Proposing Municipalities | Kawasaki City, Kanagawa Prefecture, Yokohama City, and the Ota Ward (in Tokyo) |
| Proposing Institutes | Kanagawa Institute of Industrial Science and Technology, Tokyo University, Tokyo Tech, Yokohama City University, Fuji Film, and CYBERDYNE |
| Participating Institutions | Institute of Physical and Chemical Research (RIKEN), Yokohama National University, Toho University, National Institute of Health and Science, Central Institute for Experimental Animals, Institute of Industrial Promotion Kawasaki, Ota City Industrial Promotion Organization, Ajinomoto Co., Ltd., Johnson and Johnson Co., Ltd., Yamato Logistics Co., Ltd., KSP Co., Ltd., The Bank of Yokohama Co., Ltd., PeptiDream Co., Ltd., EPS Corporation, Medtronic Japan Co., Ltd., and Shionogi & Co., Ltd. |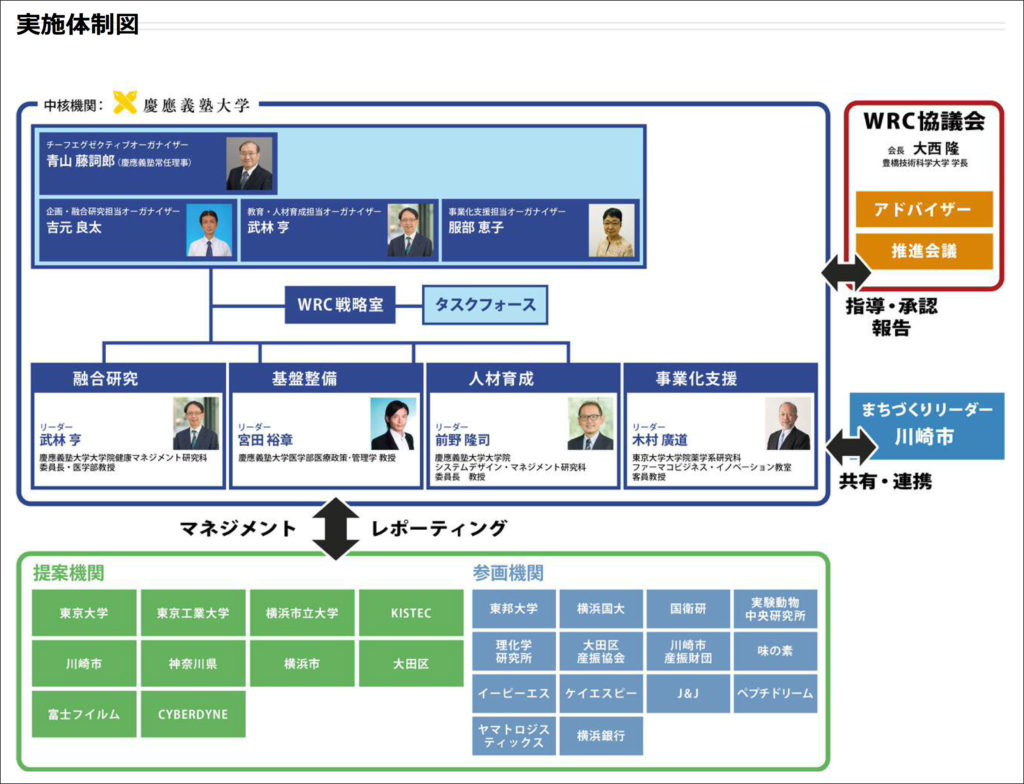 * Referenced from the website of Tonomachi Town Campus, Keio University
■Related Links
– Tonomachi Town Campus, Keio University
– The Japan Science and Technology Agency (JST)
Program for Building Regional Innovation Ecosystem
<Ministry of Education, Culture, Sports, Science and Technology (MEXT)-Japan>
(project period: 2017 – 2021)
■Theme
 Program to Industrialize an Innovative Middle Molecule Drug Discovery Flow through Fusion of Computational Drug Design and Chemical Synthesis Technology.
■Summary
 - Design an innovative middle molecule drug discovery business flow based on a combination of "IT drug discovery"* and chemical synthesis technologies, etc.
* drug discovery support that uses IT skill of Tokyo Tech
 - By means of industry-academia-government collaboration with local companies including ones within KING SKYFRONT, this program aims to substantially improve middle molecule drug discovery efficiency in Japan by building innovation ecosystem that serve as a bridge for drug discovery businesses and basic-and-generic research.
■Main Participating Institutes
 Tokyo Tech, Kawasaki City, Institute of Industrial Promotion Kawasaki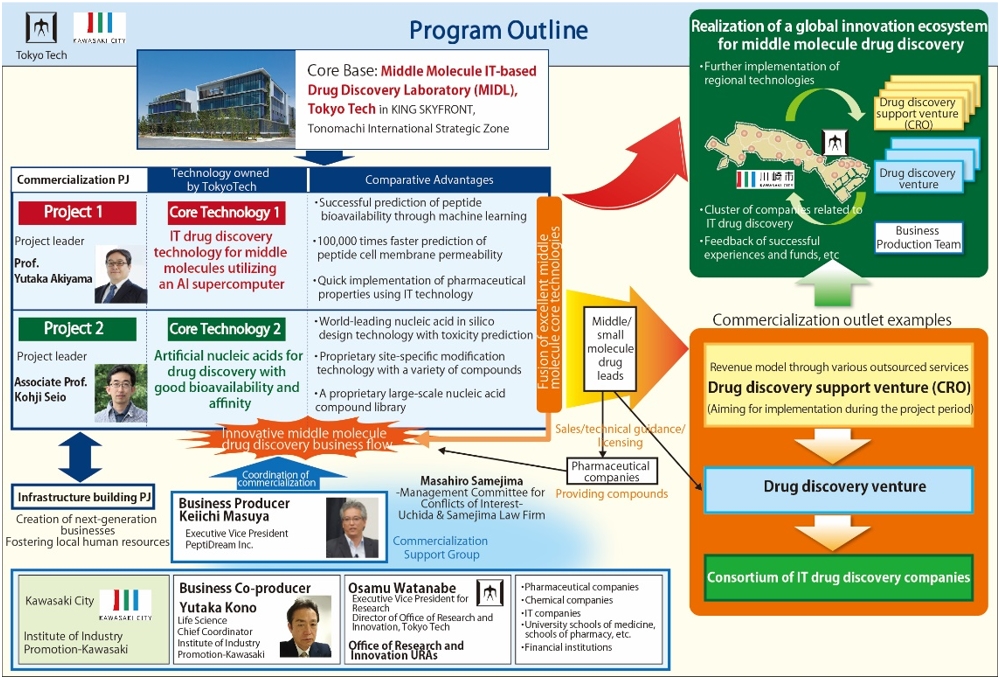 * Referenced from the website of Tokyo Tech
■The Next Generation Workshop regarding Middle Molecule Drug Discovery 
 One of projects at KING SKYFRONT. Known as IMD2 (Innovation Initiative for Middle-Molecure Drug Discover).
This workshop runs networking events and seminars geared towards the creation of new business in order to produce innovative value chains in middle molecule drug discovery by unifying distinct fields of technology gathered in Kawasaki. Must be a member (free membership for the time being).
■Related Links
 - Middle Molecule IT-based Drug Discovery Laboratory (MIDL)
 - Kawasaki Institute of Industrial Promotion