Origin of the name
K

awasaki

IN

novation

G

ateway at

SKYFRONT
"KING" is an acronym for "Kawasaki INnovation Gateway" and reflects the name of the town "Tono-machi" with "Tono" meaning "feudal lord". In addition, "SKYFRONT" is a reference to its close location to Haneda Airport, which connects Japan to the rest of the world, and is just across the Tama River.
Construction of connection roads to Haneda Airport
Kawasaki City is now constructing connection roads (comprising one bridge with two lanes) in collaboration and cooperation with the national government, the Tokyo Metropolitan Government and other related organizations. The roads are intended to help strengthen collaboration between KING SKYFRONT and Haneda Airport Unused Land, and will serve as infrastructure that supports the formulation of a hub for strategic integrated growth for 2020.
Furthermore, improvement of the National Route 357 Tamagawa Tunnel, connecting a wide-ranging metropolitan area network between the two banks of the Tama River, is being carried out.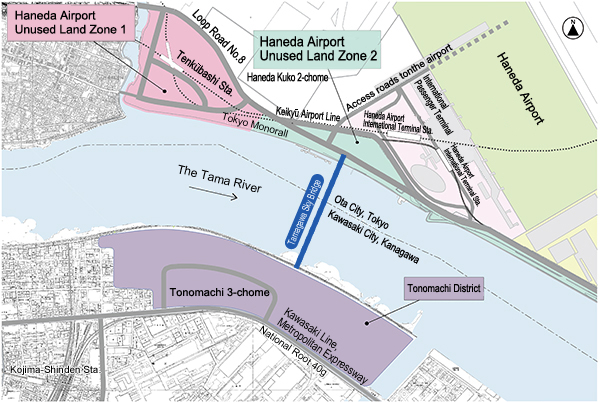 Image of the connection road bridge (view from Haneda Airport side looking upstream along the Tama River)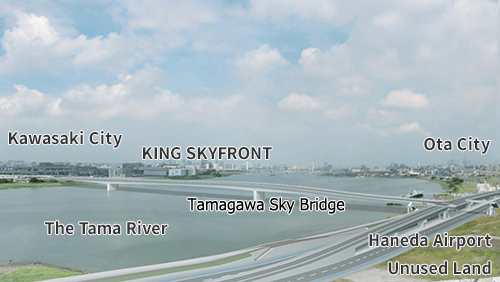 Haneda Airport Unused Land Zone 1 (approx. 16.5ha)
Land readjustment project (roads, parks, station square, etc.)

Urban Renaissance Agency

Project Phase 1 (approx. 5.9ha)

Haneda Mirai Development Co., Ltd. (founded by nine investor companies)
Soft opening in 2020, Grand opening in 2022
Total floor space

approx. 125,400㎡

Major uses

R&D facilities (laboratories and large-scale offices), leading-edge medical research center, conference hall, event hall, facility offering Japanese cultural experiences, dining establishments, training accommodation facilities, hydrogen filling station, etc.

Designers and Builders

Kajima Corp., Daiwa House Industry Co., Ltd.
Haneda Airport Unused Land Zone 2 (approx. 4.3ha)
Opening by June 2020
Developer

Haneda Airport Urban Development Inc.

(Sumitomo Realty & Development Co., Ltd., etc.)

Major uses

Accommodation facilities (approx. 1,700 rooms); banquet room (capacity of approx. 600 persons); commerce facilities for food and drink, sales of goods, etc.; and bus terminals, etc.

Redevelopment Image as of March 2016